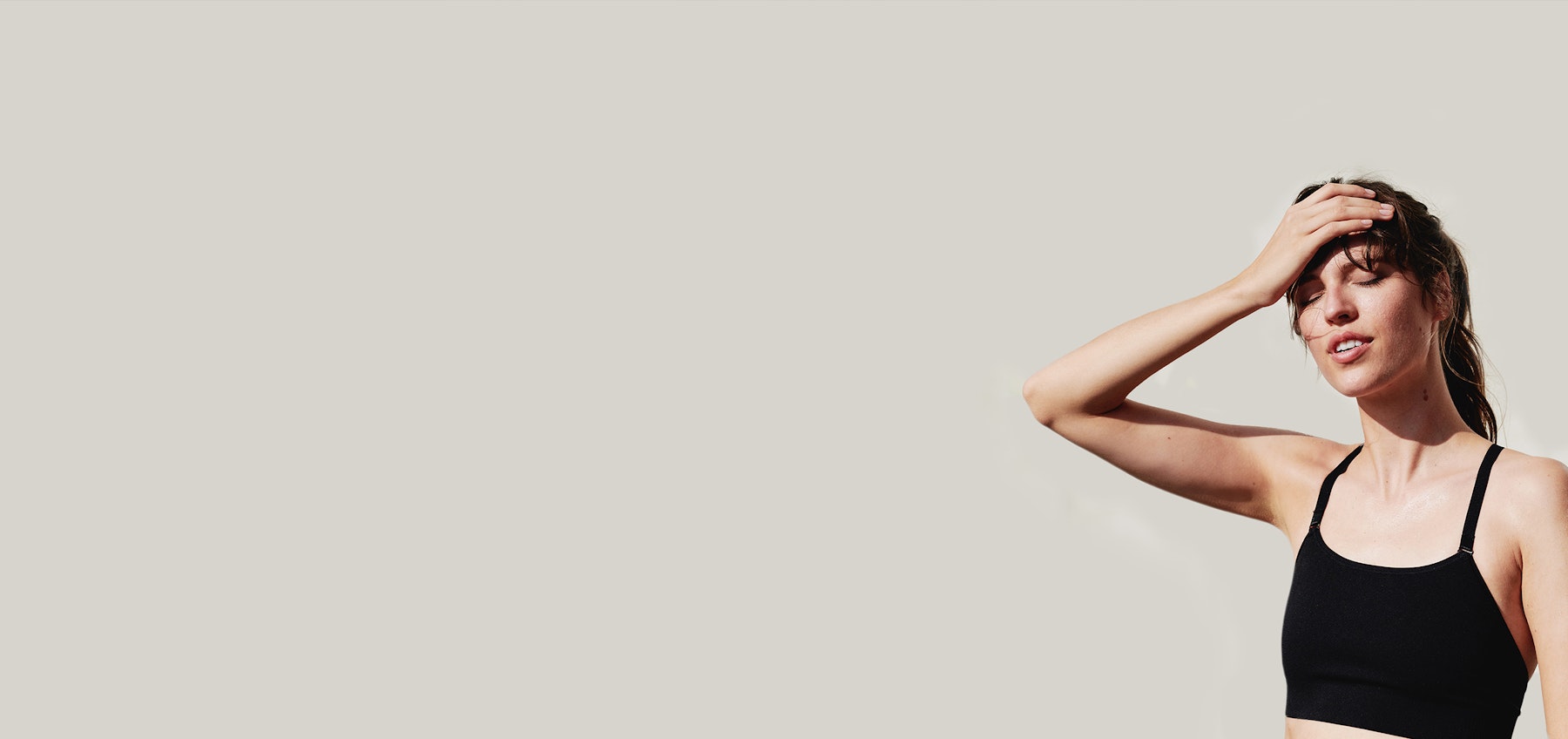 Good to know
Most people automatically think of meat when it comes to protein. However, many plants and fungi also contain a significant amount of protein. Elephants, giraffes and gorillas "only" eat plants – but that doesn't seem to have a negative effect on their muscles. In addition, animal protein has the disadvantage that it goes hand in hand with increased blood pressure, higher cholesterol and the risk of diabetes. Most preventive and therapeutic concepts recommend a largely plant-based diet.
First-class performance is ensured with this vegan protein shake with natural ingredients and with no artificial flavours, sweeteners or synthetic additives. RINGANA SPORT protein combines plant-based protein from various sources, thus achieving the ideal biological value for long-lasting protein supply. The ideal support for athletic exertion, figure training, muscle building and regeneration.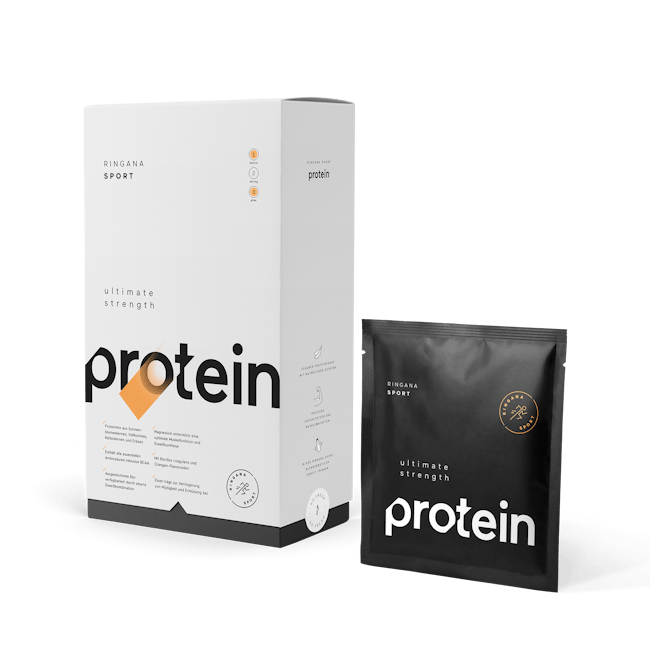 Food supplement based on vegan protein with hesperidin from orange extract, Bacillus coagulans, Vitamins and minerals.
INGREDIENTS
Sunflower seed protein powder, protein concentrate from brown rice, 19.6 % pea protein isolate , isomaltulose*, 5.2 % pumpkin seed protein powder, linseed flour (partly de-oiled), 2.6 % coconut milk powder, 0.9 % orange extract, magnesium citrate, quinoa sprout powder, Bacillus coagulans, Vitamin D2 from mushrooms.
* Isomaltulose is a source of glucose and fructose.
NUTRITIONAL INFORMATION 
Nutritional information
per DD
(1 sachet)
% NRV° per DD
per 100 g
DD = Daily dose
Energy

700 kJ

167 kcal

–

–

1591 kJ

380 kcal

Fat

of which saturates

2.6 g

0.7 g

–

–

5.9 g

1.6 g

Carbohydrates

of which sugars

5 g

3.6 g

–

–

11 g

8.2 g

Fibre

5 g

–

11 g

Protein

26 g

–

60 g

Salt

0.18 g

–

0.40 g

Vitamins

Vitamin B1 (thiamin)
Vitamin B2 (riboflavin)
Niacin
Pantothenic acid
Vitamin B6
Folic acid
Biotin
Vitamin B12
     from quinoa sprout powder**
0.77 mg
0.29 mg
4.0 mg
1.5 mg
0.42 mg
92.0 µg
18 µg
0.73 µg


70
21
25
25
30
46
36
29


1.8 mg
0.67 mg
9.1 mg
3.4 mg
0.95 mg
209 µg
41 µg
1.6 µg



Vitamin D2 from mushrooms

2.5 µg

50

5.7 µg

Minerals

Magnesium from sunflower seed protein powder and magnesium citrate**

165 mg

44

375 mg

Iron
Zinc
Copper
Manganese
Selenium
Phosphorus
     from natural sources
4.1 mg
3.0 mg
1000 µg
1.4 mg
22 µg
350 mg


29
30
100
70
40
50


9.2 mg
6.8 mg
2300 µg
3.2 mg
50 µg
795 mg



Amino acid profile

Alanine
Arginine
Aspartic acid/asparagine
Cysteine
Glutamic acid/glutamine
Glycine
Histidine
Isoleucine
Leucine
Lysine
Methionine
Phenylalanine
Proline
Serine
Threonine
Tryptophan
Tyrosine
Valine
     from natural sources

1.16 g
2.25 g
2.41 g
0.60 g
4.72 g
1.15 g
0.64 g
1.04 g
2.00 g
1.22 g
0.46 g
1.30 g
0.97 g
1.19 g
0.95 g
0.29 g
0.99 g
1.37 g



–
–
–
–
–
–
–
–
–
–
–
–
–
–
–
–
–
–



4.40 g
8.55 g
9.18 g
2.27 g
17.95 g
4.38 g
2.44 g
3.97 g
7.60 g
4.63 g
1.75 g
4,93 g
3.71 g
4.53 g
3,62 g
1.11 g
3.75 g
5.22 g



Other ingredients

Palatinose™ isomaltulose

2.96 g

–

6.73 g

WATTS´UP orange extract

contains hesperidin

400 mg

360 mg

–

–

909 mg

818 mg

GanedenBC30® Bacillus coagulans GBI-30 6086

500
Mio.KbE

–

1130
Mio.KbE
** and other natural sources
WATTS'UP® is a registered trademark of BIOACTOR B.V. GanedenBC30 is a registered trademark of Kerry, Inc.
Protein contributes to a growth in and maintenance of muscle mass. Biotin supports the metabolism of macronutrients. Magnesium contributes to electrolyte balance and supports protein synthesis. Iron contributes to normal oxygen transport in the body. Vitamin B12 supports the energy-yielding metabolism and riboflavin contributes to the reduction of tiredness and fatigue.
° % NRV = % nutrient reference value according to the Food Information Regulation (EU)
V 1.2
A product's ingredients may change over the course of time. If you want to know for sure what a product contains, the respective product packaging provides a list of ingredients.
Smart protein mix with excellent bioavailability from sunflower seeds, wholegrain rice, pumpkin seeds, linseed and peas. Contains all amino acid including BCAA which supports the maintenance and augmentation of muscle mass. Vitamin D2 from mushrooms contributes to the preservation of muscle function. Riboflavin, biotin and Vitamins B6 and B12 from quinoa seed powder play an important role for the energy metabolism. Magnesium and magnesium citrate from sunflower seeds promote optimum muscle function and protein synthesis. Iron helps to reduce tiredness and fatigue. Other selected substances: Bacillus coagulans, coconut milk powder and hesperidin from orange extract.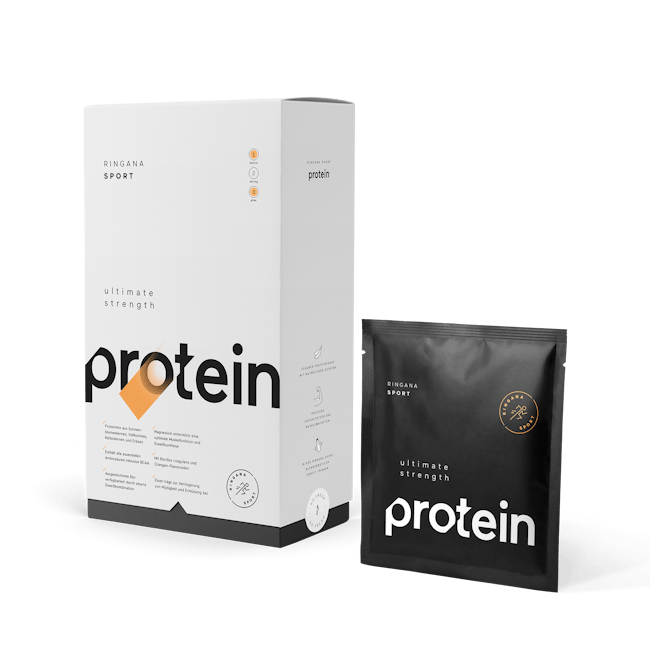 RECOMMENDED CONSUMPTION
Dilute the contents of one sachet with 300 ml water and drink. Shake well before consuming.
IMPORTANT INFORMATION
The stated recommended daily dose may not be exceeded. Food supplements should not be used as a substitute for a varied and balanced diet and a healthy lifestyle. The product is designed for adults and should be stored out of the reach of young children.
RINGANA SPORT protein is not a medicinal product, and is not intended to replace consultations with your doctor. RINGANA SPORT protein is not intended to treat or cure diseases. If you are taking prescribed medication, suffer from health problems, or are breastfeeding or pregnant, consult your doctor before taking RINGANA SPORT protein.
Sachets may not be passed on to others.
Each batch is tested for anabolic steroids and stimulants by a world-leading laboratory in the analysis of doping substances in food supplements.
Ideal for athletes and those with increased protein requirements.
The product should be stored in a dry, cool place, not exceeding 25 °C.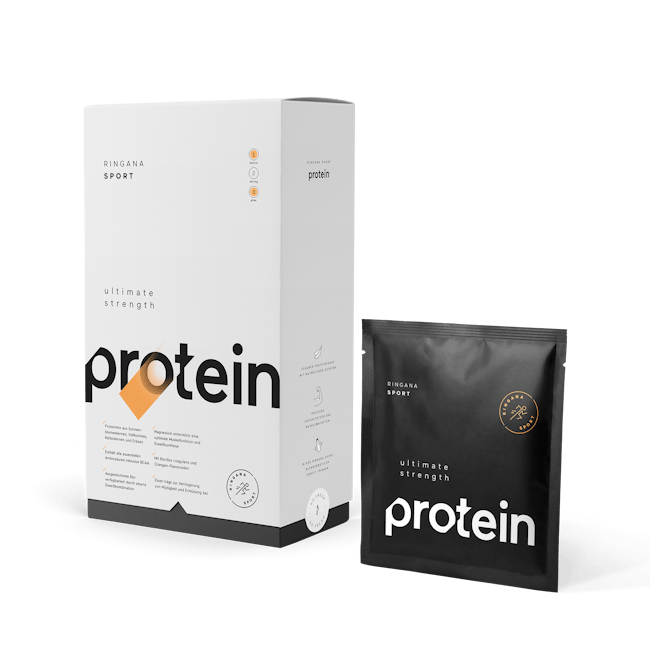 THIS IS AN AWARD-WINNING PRODUCT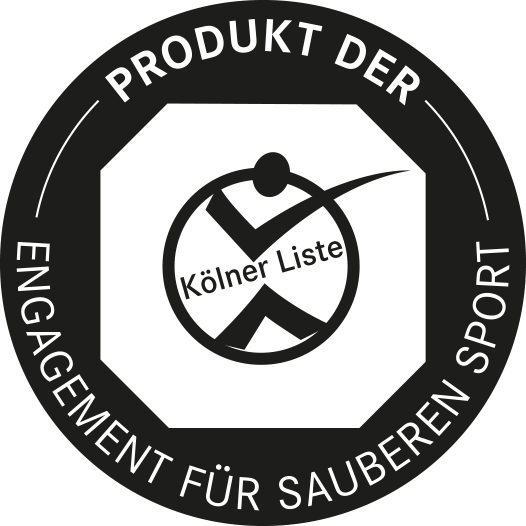 Kölner Liste