Whether it's in the workplace or in our private lives, stress has meanwhile become our constant companion. We're rushing from one meeting to the next, picking the kids up from school, and maybe doing the housework as well. It's getting harder and harder for people to switch off. The thing is ­ if we are stressed and tired, over the long term we are no longer able to do all that's required of us. It's a vicious circle. RINGANA has come up with an answer to this problem. RINGANAisi__ ­ the smart vegan drink for winding down and relaxing.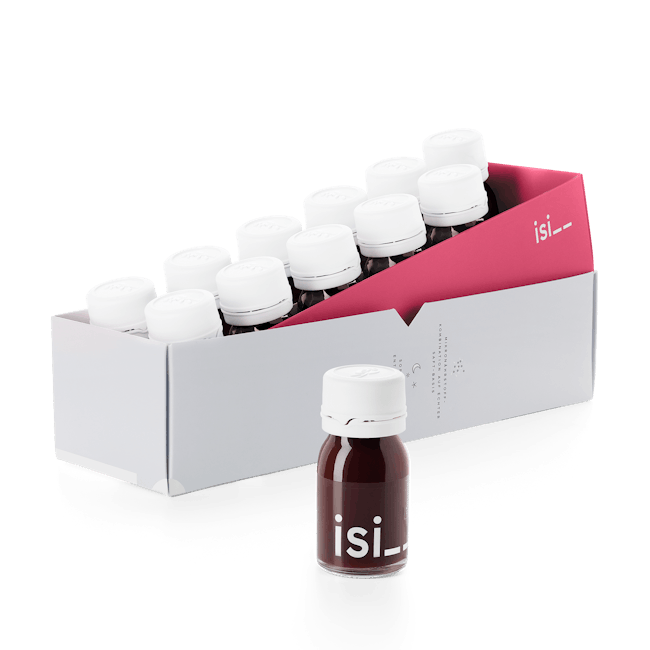 Food supplement with vitamin C made from acerola fruit, the amino acid L-tryptophan and secondary plant substances.
INGREDIENTS
Water, apple juice concentrate, isomaltulose*, aronia juice concentrate, maltodextrin, sour cherry extract, lemon juice powder, green oat extract**, rooibos leaf extract, acidity regulator: lactic acid, stabiliser: gum arabic, lemon balm leaf extract, winter linden blossom extract, passion flower extract, L-tryptophan, acerola cherry powder, rosemary leaf extract, hop blossom extract, winter cherry root extract, vinegar powder, sea salt.
* Isomaltulose is a source of glucose and fructose.
**gluten-free
NUTRITIONAL INFORMATION
Nutritional information

per DD
% NRV° per DD
per 100 ml
DD = Daily dose

Energy

364 kJ

87 kcal

–

–

1,214 kJ

290 kcal

Fat

of which saturates

0 g

0 g

–

–

0 g

0 g

Carbohydrates

of which sugars

20 g

12 g

–

–

68 g

41 g

Fibre
0.9 g

–

3.0 g
Protein
0.3 g

–

0.8 g
Salt
0.11 g

–

0.36 g
Vitamins

Vitamin C from acerola cherry powder
16 mg

20

54 mg

Other ingredients

BerryShield™ sour cherry extract

contains polyphenols

2.0 g

88 mg

–

–

6.7 g

293 mg

cognitaven® Green oat extract

contains flavonoids

600 mg

2 mg

–

–

2.0 g

6 mg

Rooibos leaf extract
500 mg

–

1,7 g

Bluenesse® lemon balm leaf extract

contains rosmarinic acid

300 mg

18 mg

–

–

1.0 g

60 mg

Winter linden blossom extract

contains flavonoids

240 mg

6 mg

–

–

800 mg

20 mg

Passion flower extract

contains vitexin

240 mg

10 mg

–

–

800 mg

32 mg

L-tryptophan
240 mg

–

800 mg

Rosemary leaf extract

contains rosmarinic acid

130 mg

7 mg

–

–

432 mg

24 mg

Hop blossom extract

contains flavonoids

100 mg

10 mg

–

–

334 mg

33 mg

Winter cherry root extract

contains glycowithanolides

96 mg

5 mg

–

–

320 mg

16 mg
Vitamin C contributes to normal functioning of the nervous system and to normal psychological function.
Based on BerryShield™ technology (patent pending), under licence from Asiros A/S. cognitaven® is a registered brand of Anklam Extrakt GmbH, Germany. Bluenesse® is a trademark of Vital Solutions GmbH, Germany.
° % NRV = % nutrient reference value according to the Food Information Regulation 
V 4.0
A product's ingredients may change over the course of time. If you want to know for sure what a product contains, the respective product packaging provides a list of ingredients.
Ashwagandha root extract helps the body to cope better with stress. Lemon balm extract promotes good, refreshing sleep. Small­leaf lime flower extract contributes to optimum relaxation. Hop flower extract is gently calming and helps us to switch off. Sour cherry extract contains natural melatonin that regulates the sleeping and waking cycle. L­tryptophan can be absorbed through food. This essential amino acid is transformed in the body into the "sleep hormones" serotonin and melatonin.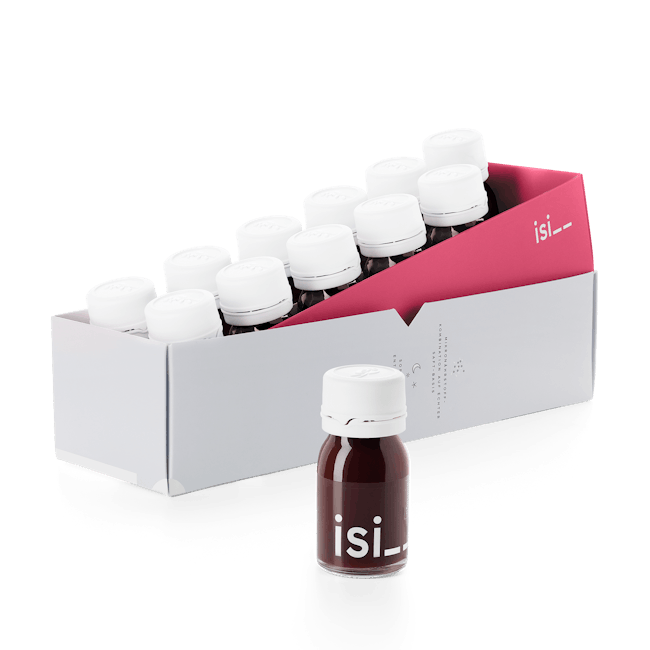 RECOMMENDED CONSUMPTION
1 (30 ml) bottle RINGANAisi_ _ per day topped up to 150 ml with water. Shake well before use.
TIP: RINGANAisi_ _ can be prepared with cold or hot water.
IMPORTANT INFORMATION
The stated recommended daily dose may not be exceeded. Food supplements should not be used as a substitute for a varied and balanced diet and a healthy lifestyle. The product is designed for adults and should be stored out of the reach of young children. 
RINGANA DRINKS are not a medicinal product, and are not intended to replace consultations with your doctor. RINGANA DRINKS are not intended to treat or cure diseases. If you are taking prescribed medication, suffer from health problems, or are breastfeeding or pregnant, consult your doctor before taking RINGANA DRINKS.
RINGANA DRINKS may not be passed on to others.
Do not store at above 25°C.