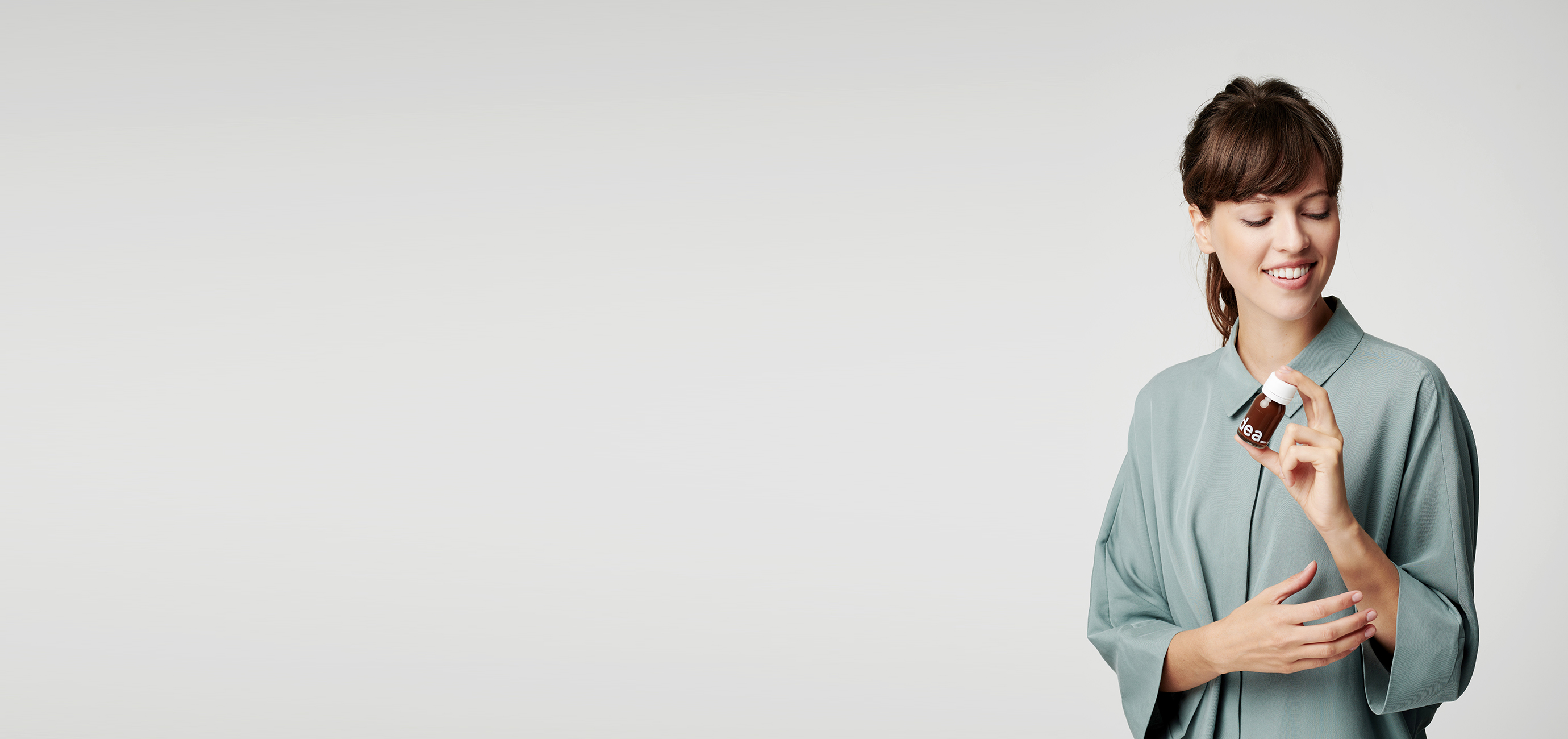 Good to know
Drainage is a natural process that takes place in the body to eliminate toxins. However, an unbalanced diet or a lack of movement can cause unpleasant water retention in the body. To combat this, it can help to change our daily habits: by cutting down on salt and protein or doing more sport. RINGANAdea_ _ also promotes the body's own detoxing system for getting rid of excess water. It may sound paradoxical, but yes, you can drain fluids from the body by increasing your fluid intake. RINGANAdea_ _ helps the body to neutralise toxins and focus on its core functions.
"Tea is drunk to forget the din of the world." (T'ien Yiheng) And while you're doing that, why not lose weight at the same time? The innovative tea drink RINGANAdea__ combines purely natural ingredients in a single highly concentrated drink. The unique composition makes RINGANAdea__ the perfect companion for a figureconscious lifestyle.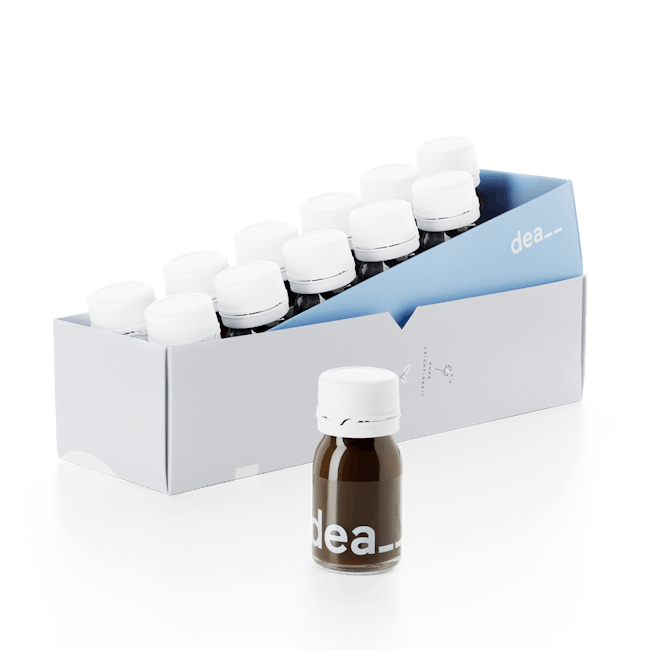 Food supplement with tea extract, natural caffeine and Vitamin C from acerola cherries.
INGREDIENTS
Water, maracuja fruit juice concentrate, isomaltulose*, fructooligosaccharides, prickly pear juice powder, mate leaf extract, mango fruit juice concentrate, acidity regulator: lactic acid, bitter orange extract, extract from green coffee beans, mulberry leaf extract, lemon balm extract, mugwort leaf extract, extract from holy basil leaves, 0.5% green tea extract, acerola cherry powder, rosemary leaf extract, brown algae extract from Laminaria japonica, thickening agent: gellan gum.
*Isomaltulose is a source of glucose and fructose.
NUTRITIONAL INFORMATION
DD = Daily dose

per DD (30 ml)
% NRV° per DD
per 100 ml
Nutritional information

Energy

188 kJ

45 kcal

–

–

628 kJ

150 kcal

Fat

of which saturates

0 g

0 g

–

–

0 g

0 g

Carbohydrates

of which sugars

10 g

7 g

–

–

32 g

24 g

Fibre
3 g
–
11 g
Protein
0.2 g
–
0.7 g
Salt
0.05 g
–
0.15 g
Vitamins
Vitamin C from acerola cherry powder
13 mg
17
44 mg
Other ingredients
Palatinose™ (isomaltulose)
3.6 mg
–
11.9 g
Actilight® fructooligosaccharides
3.0 g
–
9.9 g

Cacti-Nea™ prickly pear fruit juice powder

contains betalains

950 mg

475  µg

–

–

3.2 g

1.6 mg

Mate leaf extract
594 mg
–
2.0 g

Svetol® extract from green coffee beans

contains polyphenols

of which chlorogenic acid

475 mg

238 mg

214 mg

–

–

–

1.6 g

800 mg

720 mg

OB-X® mulberry extract, lemon balm extract, mugwort leaf extract

contains rosmarinic acid

356 mg

7 mg

–

–

1.2 g

24 mg

Extract from holy basil leaves

contains tannins

238 mg

24 mg

–

–

792 mg

79 mg

Green tea extract

contains polyphenols

of which epigallocatechin gallate (EGCG)

178 mg

160 mg

80 mg

–

–

–

594 mg

535 mg

267 mg

ThinOgen™ brown algae extract

contains fucoxanthin

119 mg

1 mg

–

–

396 mg

4 mg

Rosemary leaf extract

contains rosmarinic acid

119 mg

7 mg

–

–

396 mg

22 mg

Total caffeine from mate leaves, Svetol® green coffee bean and green tea extract
26 mg
–
87 mg
Vitamin C contributes to normal energy-yielding metabolism.
Svetol® is a trademark of Naturex S.A. Sunphenon® is a registered trademark of Taiyo Kagaku Co., Ltd.
° % NRV = % nutrient reference value according to the Food Information Regulation 
V 5.0
A product's ingredients may change over the course of time. If you want to know for sure what a product contains, the respective product packaging provides a list of ingredients.
Mate leaf extract helps the body with weight control. Rosemary leaf extract stimulates fat­burning. Prickly pear fruit powder with betalain helps to keep glucose levels in balance which in turn assists with controlling appetite. Epigallocatechin gallate from green tea extract stimulates the metabolism. Vitamin C from acerola fruit powder supports natural collagen formation for beautiful skin.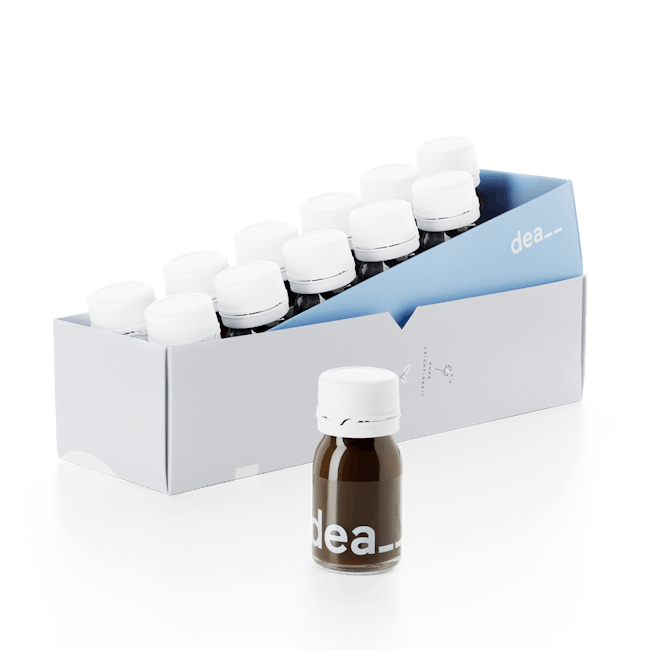 RECOMMENDED CONSUMPTION
1 bottle (30 ml) RINGANAdea__ per day topped up to 0.75 l with water. Shake well before use. 
IMPORTANT INFORMATION
The stated recommended daily dose may not be exceeded. Food supplements should not be used as a substitute for a varied and balanced diet and a healthy lifestyle. The product is designed for adults and should be stored out of the reach of young children. High caff eine content. Not recommended for children or pregnant or breast-feeding women. (26mg caffeine/30ml; 87mg caff eine/100ml).
RINGANA DRINKS are not a medicinal product, and are not intended to replace consultations with your doctor.
RINGANA DRINKS are not intended to treat or cure diseases. If you are taking prescribed medication, suff er from health problems, or are breast-feeding or pregnant, consult your doctor before consuming RINGANA DRINKS.
Do not store above 25°C.