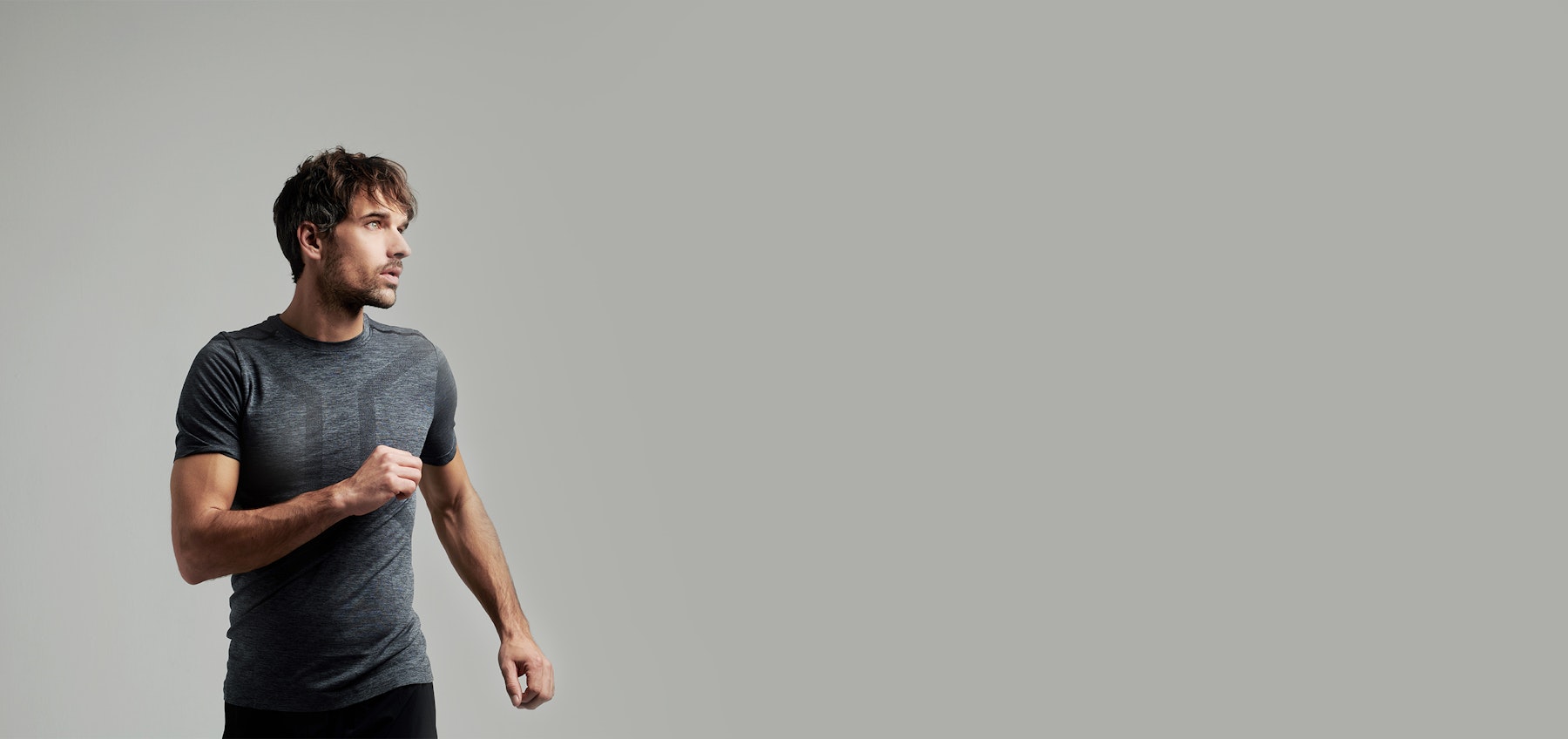 Good to know
The body needs energy in order to perform. It gets that energy from nutrition – essentially, carbohydrates are fuel for the muscles. SPORT boost lastingly fills our glycogen store with carbohydrates of different chain lengths. It also boosts water absorption during physical activity.
The right nutrient supply is essential for maximum athletic endurance. Our fresh and fruity SPORT boost helps to keep you performing at your best for longer. It provides an optimal supply of fluid and lastingly replenishes glycogen stores with carbohydrates of different chain lengths. Whether you take it before, during or after sport, this isotonic solution gives your body what it needs for peak performance.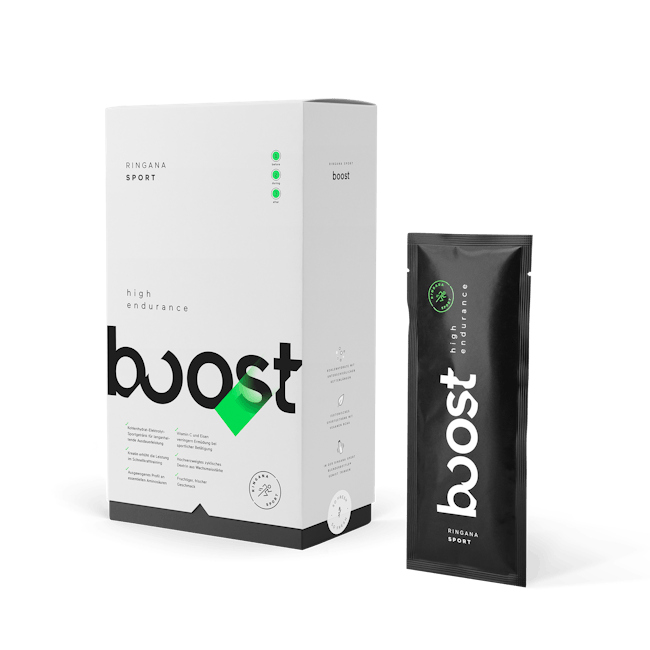 Food supplement in powder form for preparing an isotonic carbohydrate-electrolyte solution with plant substances, natural vitamins, minerals, L-carnitine and BCAA.
INGREDIENTS
Maltodextrin, waxy maize starch, dextrose, 10 % coconut water powder, 6,8 % lemon juice powder, BCAA complex (L-leucine, L-valine, L-isoleucine), passion fruit juice powder, agave syrup powder, 2 % sour cherry extract, sea salt, 1,6 % lemon oil powder (inulin, essential lemon oil), L-carnitine-L-tartrate, magnesium citrate, lemon verbena extract (Aloysia citrodora), apple peel and grape extract (sulphites), acerola cherry powder, iron from Aspergillus oryzae.
A product's ingredients may change over the course of time. If you want to know for sure what a product contains, the respective product packaging provides a list of ingredients.
NURTRITIONAL INFORMATION 
DD = daily doses (= 2 sachets)

Nutritional information

per sachet

per DD
% NRV° per DD

Energy

 

745 kJ

178 kcal

1,490 kJ

356 kcal

–

–

Fat

of which saturates

0 g

0 g

0 g

0 g

–

–

Carbohydrates

of which sugars

39 g

14 g

77 g

27 g

–

–

Fibre
1.1 g
2.2 g
–
Protein
2.3 g
4.6 g
–
Salt
1.0 g
1.9 g
–
Vitamins and minerals 

Vitamin C from acerola cherry powder

24 mg

48 mg

60

Magnesium from magnesium citrate
56,3 mg

113 mg

30

Kalium from coconut water powder*

395 mg

790 mg

40

Chlorid from sea salt*

660 mg

,1.320 mg

165

Iron from Aspergillus oryzae

3.2 mg

6.4 mg

46

Other ingredients 
 
 
 
Highly branched maltodextrin
10 g
20 g
–
Soluble waxy maize starch
7.6 g
15.1 g
–
Dextrose
7.6 g
15.1 g
–
Maltodextrin
5.7 g
11.4 g
–
Coconut water powder
5.0 g
10 g
–
Lemon juice powder
3.4 g
6.8 g
–

BCAA complex** contains

L-leucine

L-isoleucine

L-valine

 

1.2 g

0.6 g

0.6 g

 

2.4 g

1.2 g

1.2 g

 

–

–

–

Passion fruit juice powder
2.0 g
4.0 g
–
Agave syrup powder
1.8 g
3.6 g
–

BerryShield™ sour cherry extract

contains polyphenols

1.0 g

74 mg

2,0 g

148 mg

–
Lemon oil powder
800 mg
1,600 mg
–

L-Carnitine from Carnipure® Tartrat

500 mg
1,000 mg
–

Lemon verbena extract Recoverben®

contains polyphenols

300 mg

54 mg

600 mg

108 mg

–

–

Apple peel and grape extract ViNitroxTM

contains polyphenols

250 mg

238 mg

500 mg

475 mg

–

–
Carbohydrate-electrolyte solutions contribute to the maintenance of endurance performance during prolonged endurance exercise and enhance the absorption of water during physical exercise. Potassium and magnesium contribute to normal muscle function. Magnesium, vitamin C and iron contribute to the reduction of tiredness and support the energy-yielding metabolism. Magnesium contributes to electrolyte balance, iron contributes to normal oxygen transport in the body. Vitamin C supports the function of the immune system.
Based on BerryShield™ Technology (patent pending) under license from Asiros A/S. Carnipure® & logo are Lonza trademarks. Recoverben® is a trademark of Vital Solutions GmbH, German. ViNitrox™ is a trademark of Nexira.
° % NRV = % nutrient reference value according to the Food Information Regulation
* and other natural sources to the list of ingredients
** produced from plants via fermentation
V 3.0
This clever carbohydrate-electrolyte solution from special wax corn starch with highly-branched maltodextrin and dextrose helps maintain endurance for extended training periods and improves water absorption while you are physically active. Vitamin C from acerola fruit powder and iron from the fungus Aspergillus oryzae reduces tiredness and fatigue. It also improves the
absorption of iron which is required to transport oxygen. Potassium from coconut water powder plays an important role in the body with regard to muscle function. Magnesium helps to keep electrolytes in balance and boosts the metabolism.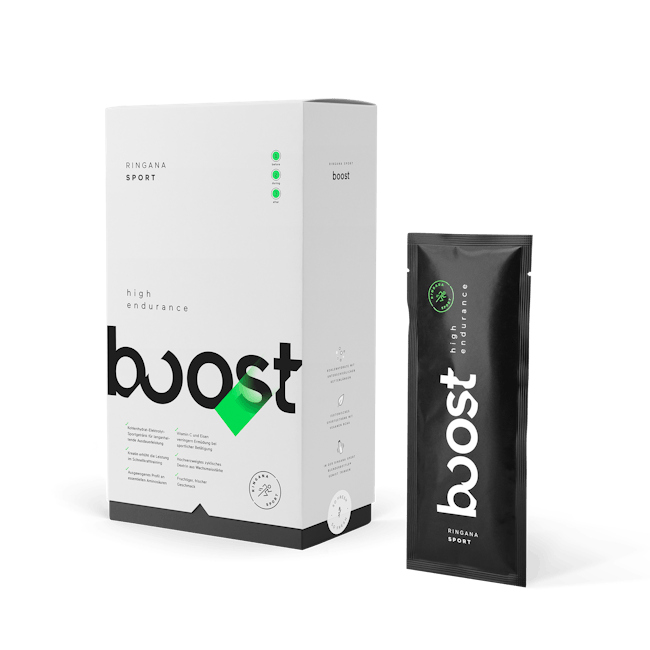 RECOMMENDED CONSUMPTION
To prepare an isotonic carbohydrate-electrolyte solution, mix the contents of one sachet with 600 ml water. Drink before and after sport as required; during physical activity drink approx. 200 ml roughly every 30 minutes. Shake well before drinking. This is best done using the RINGANA SPORT BlenderBottle®.
IMPORTANT INFORMATION
The stated recommended daily dose may not be exceeded. Food
supplements should not be used as a substitute for a varied and balanced diet and a healthy lifestyle. The product is designed for adults and should be stored out of the reach of young children.
RINGANA SPORT boost is not a medicinal product, and is not intended to replace consultations with your doctor. RINGANA SPORT boost are not intended to treat or cure diseases. If you are taking prescribed
medication or suffer from health problems, consult your doctor before taking RINGANA SPORT boost. Not suitable for pregnant or breast-feeding women.
Sachets may not be passed on to others.
Each batch is tested for anabolic steroids and stimulants by a world leading laboratory in the analysis of doping substances in food supplements.
The product is dry, and should not be stored above 25 °C.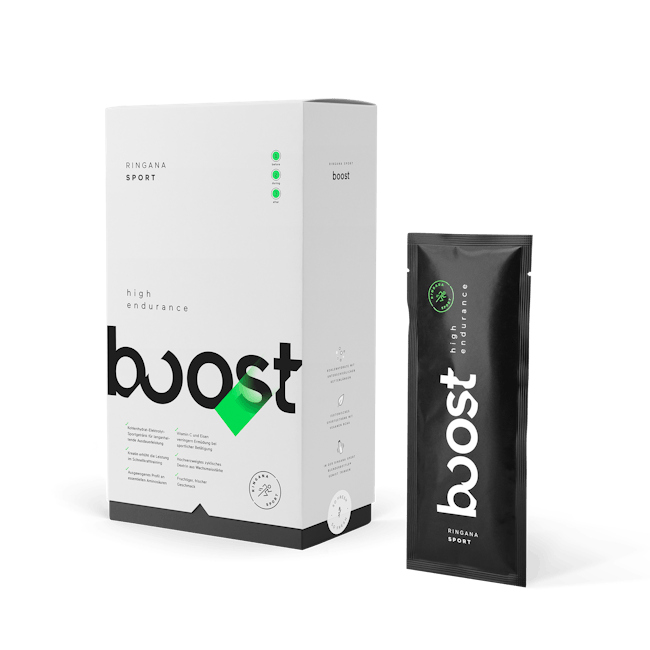 THIS IS AN AWARD-WINNING PRODUCT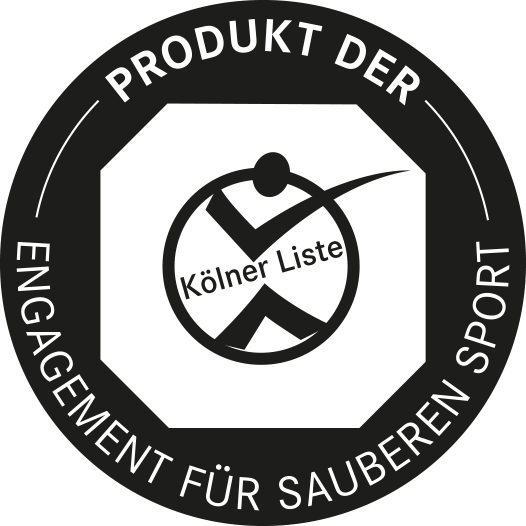 Kölner Liste