A one-­sided diet can throw acids and alkalis off balance. PACK balancing makes a valuable contribution to rebalancing acids and alkalis and restoring their equilibrium.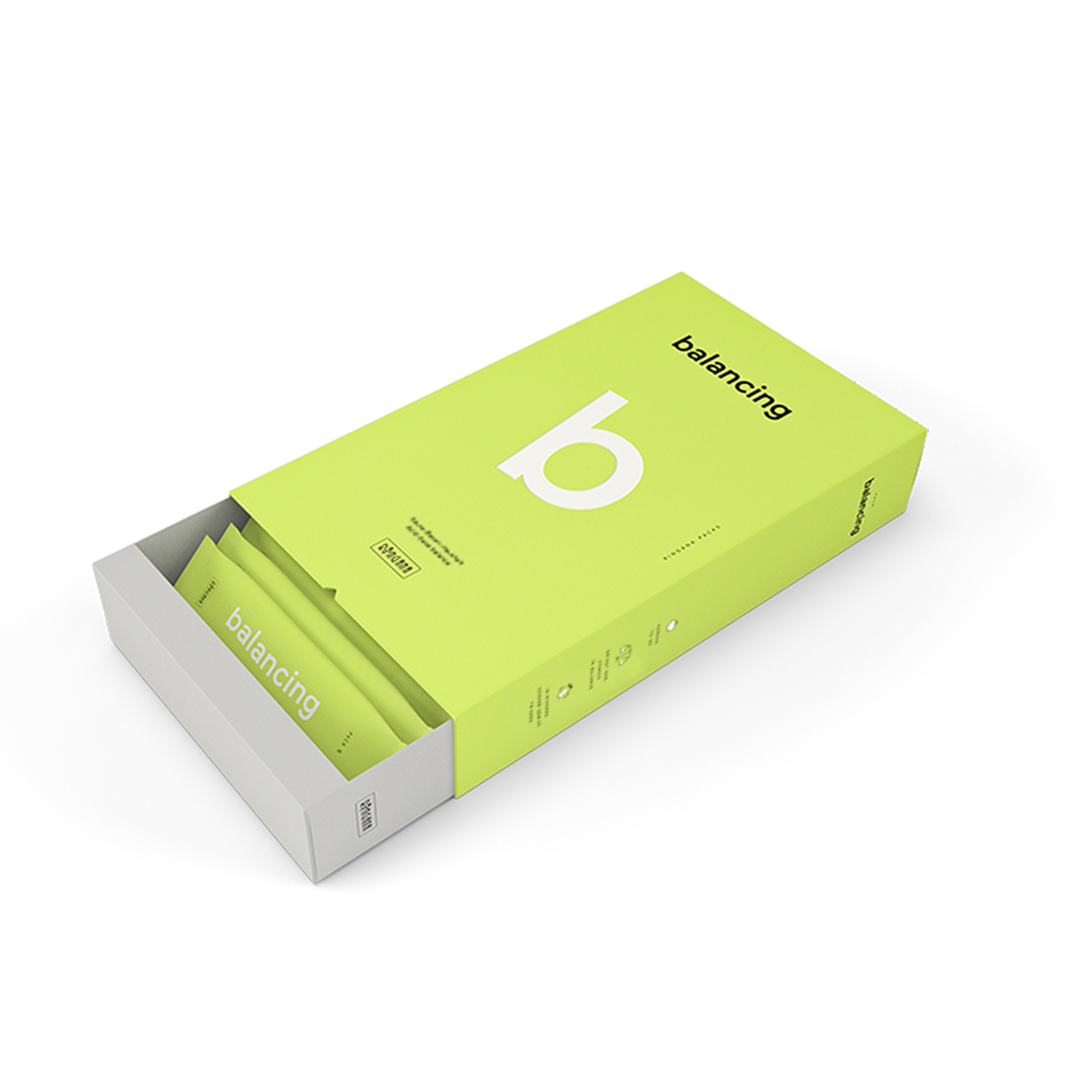 Vegetable and herb-based food supplement with algae powder, vitamins and minerals.
INGREDIENTS
Calcium citrate, 23.1 % tomato powder, magnesium citrate, buckwheat sprout powder, 4 % khorasan grass juice powder, acerola juice powder, barley grass juice powder, lemon juice powder, 2.8 % carrot powder, sea salt, parsley leaf powder, 1.5 % spirulina algae powder, 1.5 % chlorella algae powder, alfalfa powder, rice bran extract, black pepper, nettle leaf powder, champignon powder, Vitamin K2 (menaquinone-7), 5MTHF-glucosamine (folate).
NUTRITIONAL INFORMATION
DD = Daily dose

per DD
% NRV° per DD
per 100 g

Nutritional information

 
 
 

Energy

113 kJ

27 kcal

–

–

1132 kJ

271 kcal

Fat

of which saturates

0.2 g

0.0 g

–

–

1.7 g

0.3 g

Carbohydrates

of which sugars

2 g

1 g

–

–

24 g

12 g

Fibre
1 g
–
13 g
Protein
1.0 g
–
9.8 g
Salt
0.2 g
–
2.2 g
Vitamins
 
 
 

Vitamin B1 (thiamin)

Vitamin B2 (riboflavin)

Niacin

Pantothenic acid

Vitamin B6

Biotin

Vitamin B12 (methylcobalamin)

   from Cultavit® sprouted buckwheat powder

1.1 mg

1.4 mg

16 mg

6.0 mg

1.4 mg

50 µg

2.5 µg

100

100

100

100

100

100

100

11 mg

14 mg

160 mg

60 mg

14 mg

501 µg

25 µg

Folate from Quatrefolic® 
5MTHF-glucosamine

200 µg

100
2000 µg
Vitamin C from acerola cherry and alfalfa powder
52 mg
65
521 mg
Vitamin K2 (menaquinone-7) from natural Bacillus subtilis natto-ferment

75 µg

100

750 µg

Vitamin E as α-TE

      Tocopherole (α, β, γ, δ)

      Tocotrienole (α, β, γ, δ)

  from rice bran extract

4.0 mg

6.5 mg

5.6 mg

33

–

–

40 mg

65 mg

56 mg

Vitamin D2 from mushroom powder

5.0 µg 

100

50 µg

Minerals

Calcium from calcium citrate, barley grass juice, alfalfa and chlorella powder

601 mg

75

6010 mg

Magnesium from magnesium citrate, chlorella and alfalfa powder

246 mg

66

2460 mg

Zinc

Copper

Manganese

Selenium

   from Cultavit® sprouted buckwheat powder

3.4 mg

340 µg

0.78 mg

22 µg

34

34

39

40

34 mg

3400 µg

7.8 mg

220 µg

Weitere Inhaltsstoffe
Tomato powder
2306 mg
–
23.1 g
KAMUT® khorasan wheat grass juice powder
400 mg
–
4.0 g
Acerola cherry juice powder
305 mg
–
3.1 g
Barley grass juice powder
300 mg
–
3.0 g
Lemon juice powder
290 mg
–
2.9 g
Carrot powder
280 mg
–
2.8 g
Parsley leaf powder
180 mg
–
1.8 g
Spirulina algae powder
150 mg
–
1.5 g
Chlorella algae powder
150 mg
–
1.5 g
Alfalfa powder
100 mg
–
1.0 g
Black pepper
50 mg
–
0.5 g
Stinging nettle leaf powder
50 mg
–
0.5 g
Zinc contributes to normal acid-base metabolism. Magnesium supports the electrolyte balance.
KAMUT® is a registered brand of Kamut Enterprises of Europe and is used under licence.
° % NRV = % nutrient reference value according to the Food Information Regulation (EU)
V 7.0
A product's ingredients may change over the course of time. If you want to know for sure what a product contains, the respective product packaging provides a list of ingredients.
The zinc contained in buckwheat germ powder supports natural acid­alkali balance Vitamins B1, B2, B6 and B12 work with manganese, copper and biotin to boost the energy metabolism. Black pepper supports liver function by promoting blood circulation. Spirulina and chlorella alga powder are rich in amino acids, vitamins and minerals. Magnesium helps to maintain electrolyte balance. Folate is the natural form of folic acid and plays a role in cell division and blood formation.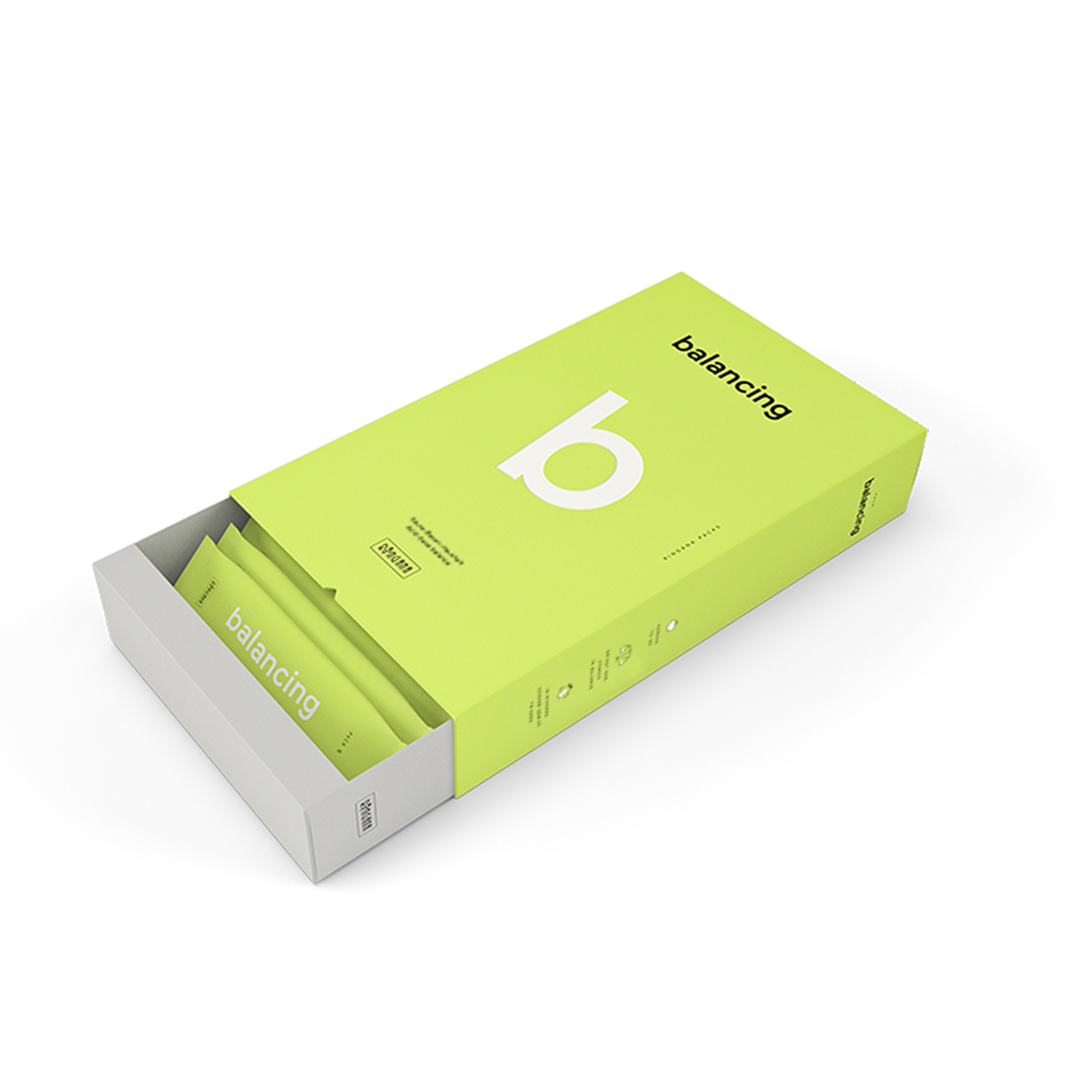 RECOMMENDED CONSUMPTION
Dilute the contents of one sachet with water to taste once a day and drink. This is best done using the RINGANA Shaker with the PACK Shaker Ball. PACK balancing may be taken at any time of day. Not intended for children. The recommended daily dose must not be exceeded.
IMPORTANT INFORMATION
The stated recommended daily dose may not be exceeded. Food supplements should not be used as a substitute for a varied and balanced diet and a healthy lifestyle. The product is designed for adults and should be stored out of the reach of young children.
RINGANA PACKS are not a medicinal product, and are not intended to replace consultations with your doctor. RINGANA PACKS are not intended to treat or cure diseases. If you are taking prescribed medication, suffer from health problems, or are breastfeeding or pregnant, consult your doctor before taking RINGANA PACKS.
Sachets may not be passed on to others.
The product is dry, and should not be stored above 25 °C.