This intensive care product for the body's "problem zones" boosts collagen synthesis, cell renewal and the fat metabolism in the skin overnight. Your silhouette will be smoother and firmer, cellulite and stretch marks are reduced. Rich oils keep the skin smooth and supple.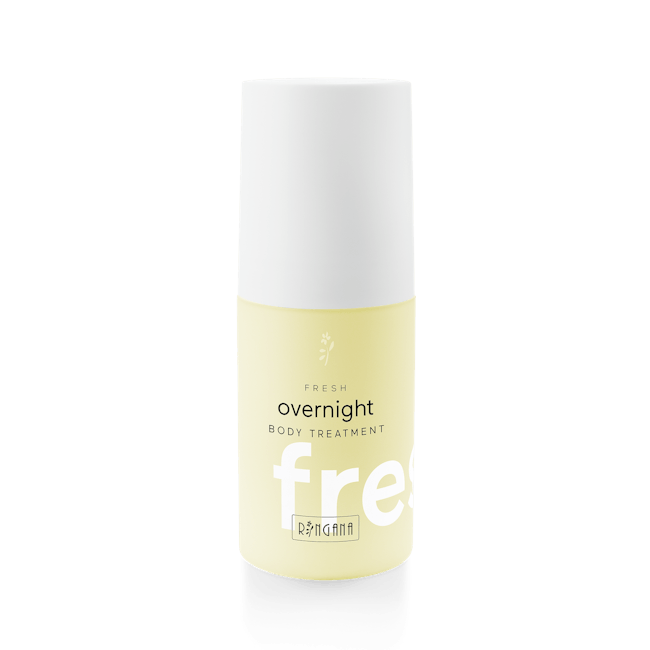 Aqua (water), Limnanthes alba seed oil (meadowfoam seed oil), Niacinamide (Vitamin B3 derivative that reduces signs of pigment spots), Glyceryl stearate citrate (natural emulsifier from rapeseed oil), pentylene glycol (plant-derived moisturising agent), xylitol (birch sugar), Mangifera indica seed butter* (nourishing mango butter), Sesamum indicum seed oil* (sesame oil), Heptyl undecylenate (nourishing ester oil), squalanes (olive squalane), Sodium lactate (part of the skin's own natural moisturising factor), Diglycerin** (plant-based moisturiser), Cetyl alcohol (fatty alcohol), Retinal (highly effective Vitamin A derivative), Cyclodextrin (improves the transportation of active substances in the skin), Caffeine (caffeine that stimulates microcirculation), Coleus forskohlii root extract (forskolin which stimulates the metabolism), Butyrospermum parkii butter extract (shea butter extract that stimulates lipolysis), Porphyridium cruentum culture conditioned media (strengthening substance from Porphyridium purpureum alga), Bisabolol (anti-inflammatory), gold, Ascorbic acid (Vitamin C which stimulates collagen production), tocopherol (vitamin E), Escin (strengthening escin), Magnolia officinalis bark extract (antioxidant magnolia bark extract), Persea gratissima fruit extract (avocado extract), Glutathione (highly effective antioxidant), Lonicera caprifolium flower extract, Lonicera japonica flower extract (extracts from Italian and Japanese honeysuckle), Ubiquinone (Coenzyme Q10), Rubus chamaemorus seed oil (cloudberry oil), (L+) Lactic Acid (Lactic acid), sodium phytate (antioxidant rice bran extract), Bentonite (clay minerals), Xanthan gum (natural thickening agent), sorbitol, propanediol, 1, 2-hexanediol, Caprylyl glycol (skin-hydrating active substances), Polyglyceryl-6 laurate, Sodium stearoyl glutamate, Polyglyceryl-6 Oleate, Sorbitan palmitate (natural emulsifiers), phenethyl alcohol (rose alcohol), alcohol, Citric acid (Citric acid), Arginine (moisturising amino acid)
* Ingredients from organic farming | ** Made using organic ingredients
V 1.0
A product's ingredients may change over the course of time. If you want to know for sure what a product contains, the respective product packaging provides a list of ingredients.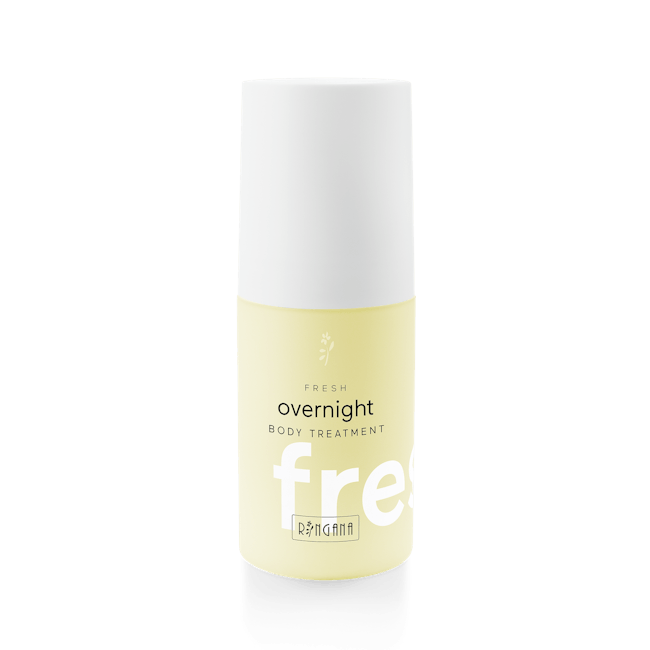 Encapsulated retinaldehyde stimulates collagen synthesis and regeneration processes in the skin, and reduces the depth of wrinkles. Gold- Vitamin – C protects the collagen framework from free radicals. Porphyridium purpureum alga strengthens the walls of blood vessels. Caffeine stimulates microcirculation in the skin. Forskolin helps to reduce unwanted subcutaneous fat. Niacinamide balances the skin tone, evens out age and pigment spots and promotes the formation of collagen and elastin. Mango butter and plant oils provide long-lasting skin care.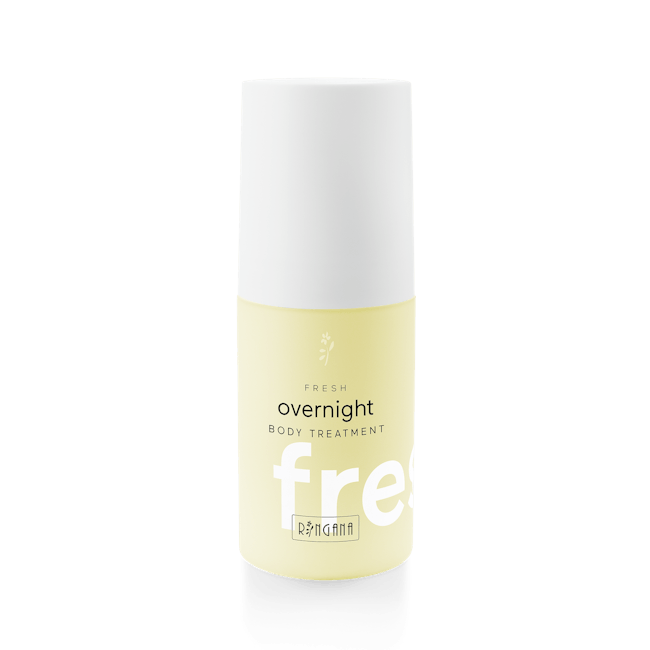 Apply FRESH overnight body treatment every evening to the affected parts of your body and massage in.
Only apply the product in the evening. Store away from direct sunlight. The product may stain clothes.