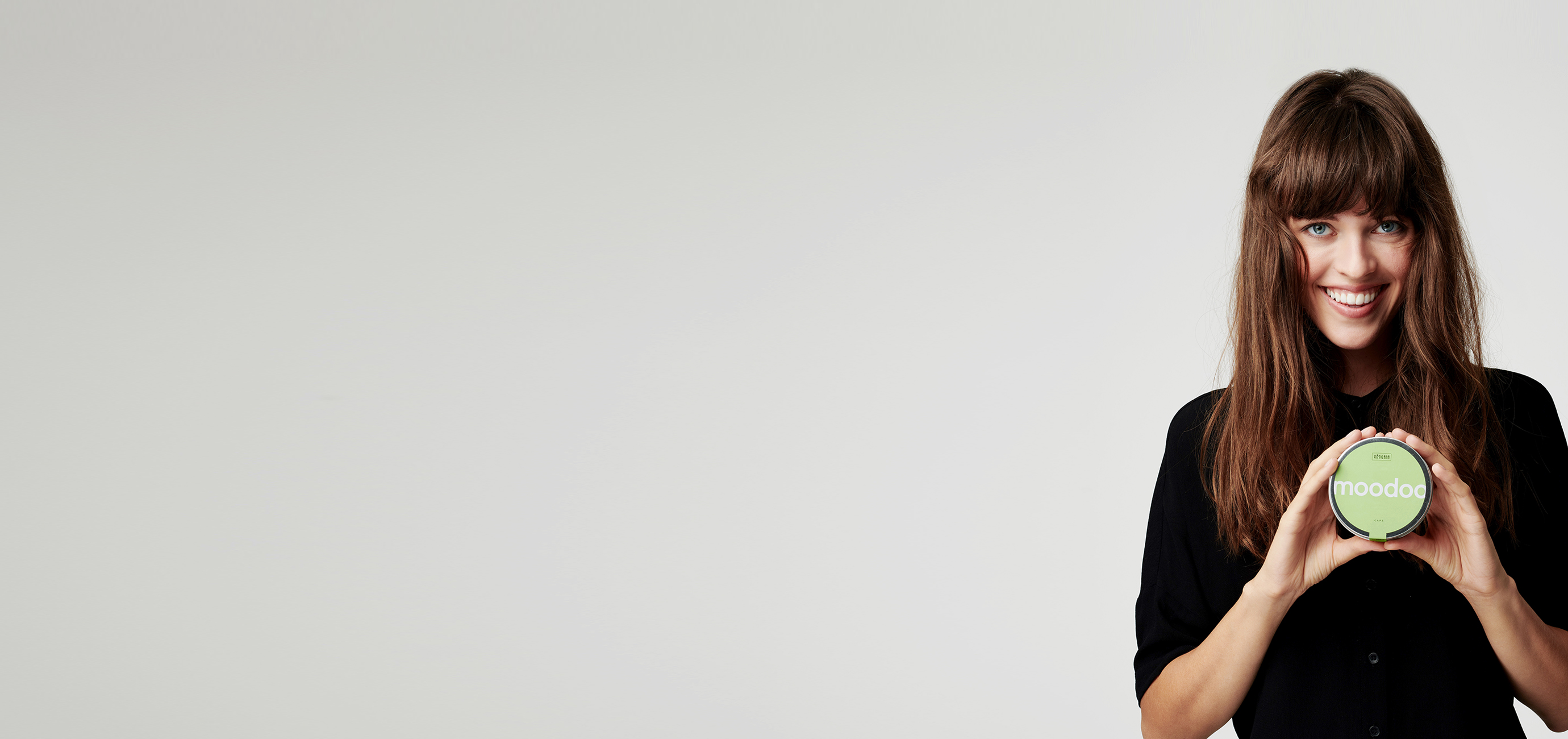 Good to know
After a hard day's work, stop punctually and enjoy your well-deserved free time. A productive working day is coming to an end, you're losing your concentration – it's time for a break. The idea is that there's nothing around to disturb you. The natural ingredients in CAPS moodoo help to make you calmer. An extract of ashwagandha root promotes physical and mental relaxation processes and helps you to find peace.
Emotional imbalance has many faces – sufferers may worry all the time, snap at their colleagues for next to nothing, or constantly feel tired. True to the motto "Don't worry, be happy!" RINGANA's CAPS moodoo offer a natural way of achieving greater serenity and joie de vivre in daily life.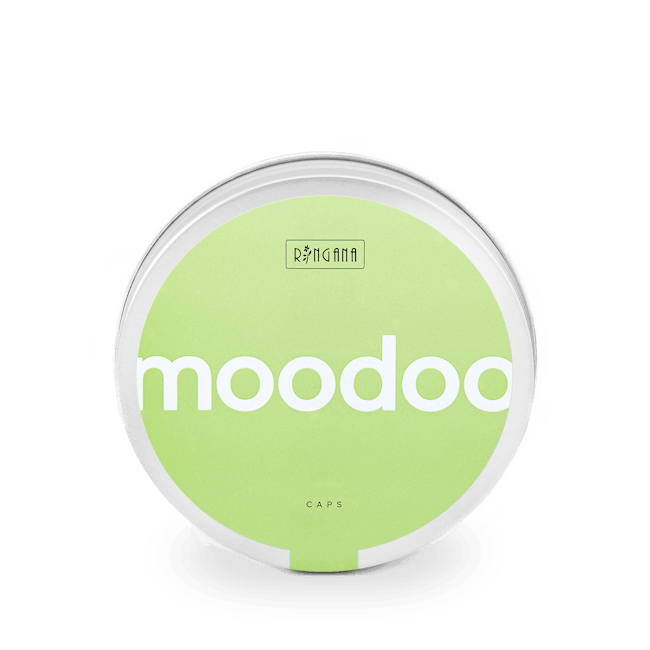 Food supplement in capsule form with natural magnesium, B vitamins and secondary plant substances.
INGREDIENTS
Lithothamnium calcareum algae powder, hydroxypropyl methylcellulose (capsule casing), saffron extract with bacterical cultures, acerola cherry juice powder, buckwheat sprout powder, L-theanine, holy basil leaf extract, schisandra berry extract, rice hull concentrate, ashwagandha root extract.
A product's ingredients may change over the course of time. If you want to know for sure what a product contains, the respective product packaging provides a list of ingredients.
NUTRITIONAL INFORMATION
DD = Daily dose
per DD
% NRV° per DD

Vitamins and minerals

Magnesium from Simag™ seawater extract

56.9 mg

15

Vitamin B1 (thiamin)

Vitamin B2 (riboflavin)

Niacin

Pantothenic acid

Vitamin B6 (pyridoxine)

Biotin

Folic acid (in the form of folate)

Vitamin B12

from Cultavit® sprouted buckwheat powder

0.17 mg

0.35 mg

4.3 mg

17 mg

0.23 mg

15 μg

51.6 μg

0.54 μg

 

15

25

27

28

16

30

26

22

 

Other ingredients

 

 

Serenzo™ orange peel extract

contains limes

500 mg

100 mg

–

–

Schisandra berry extract

contains schisandrin

200 mg

4 mg

–

–

Suntheanine® L-theanine
100 mg
–

Ashwagandha root extract

contains glycowithanolides

96 mg

4.8 mg

–

–

Cocoa bean extract

contains theobromine

75 mg

18 mg

–

–

Safr'Inside™ saffron extract

contains safromotivines

crocins

safranal

30 mg

3.6 mg

0.9 mg

0.6 mg

–

–

–

–
Vitamin C, biotin and folic acid contribute to normal psychological function. Thiamin, Vitamin B6 and B12 support the function of the nervous system. Riboflavin, niacin and pantothenic acid contribute to the reduction of tiredness and fatigue. Calcium contributes to normal energyyielding metabolism.
Simag™ and Serenzo™ are a trademark of Nexira. Suntheanine® is a registered trademark of Taiyo
Kagaku Co., Ltd. Safr'Inside™ is a trademark of ACTIV'INSIDE.
° % NRV = % nutrient reference value according to the Food Information Regulation 
V 8.1
Iranian saffron extract with the highest concentration of safranal and crocin promotes greater serenity. Orange peel extract helps to boost the mood. Schisandra berry extract and ashwagandha root extract are adaptogens that preserve physical resilience in tough situations and provide inner strength. Niacin and riboflavin combat fatigue and tiredness. Magnesium from seawater extract is seen as a "resilience mineral" which contributes to normal mental function, helping to restore emotional balance. Vitamins B1, B6 and B12 from buckwheat germ powder contribute to the normal function of the nervous system, even when it's under a lot of pressure.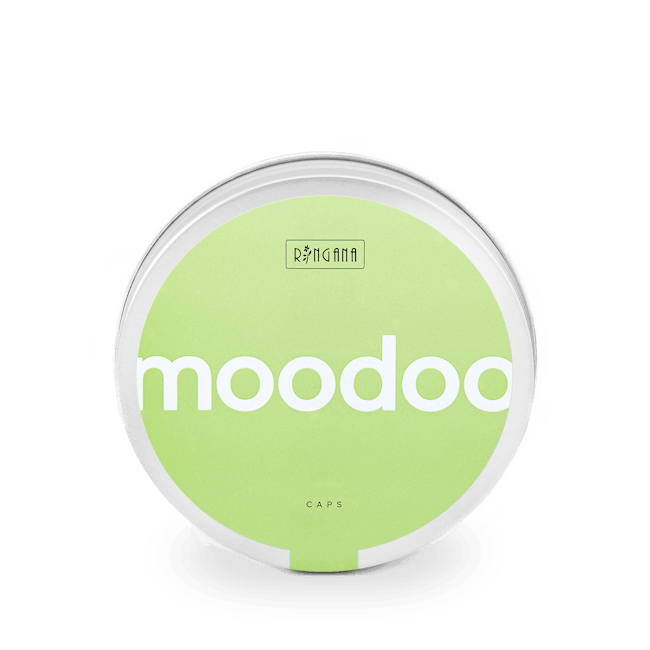 RECOMMENDED CONSUMPTION
Daily dose: 3 capsules daily. For optimum digestibility, best taken at mealtimes with a little water (non-carbonated).
IMPORTANT INFORMATION
The stated recommended daily dose may not be exceeded. Food supplements should not be used as a substitue for a varied and balanced diet and a healty lifestyle. The product is designed for adults and should be stored out of the reach of young children.
RINGANA CAPS are not a medicinal product, and are not intended to replace consultations with your doctor. RINGANA CAPS are not intended to treat or cure diseases. If you are taking prescribed medication or suffer from health problems, consult your doctor before using. Not suitable for children, pregnant or breastfeeding women.
The product is dry, and should not be stored above 25 °C. RINGANA CAPS may not be passed on to others. Due to the particular properties of certain ingredients, there may be some discolouration or spotting of the RINGANA CAPS. Packaging made from environmentally friendly tinplate.