Our bodies consist of cells that have to function perfectly to keep us young and healthy. With BEYOND spermidine, RINGANA has developed a product that gives the body's self-cleansing process a helping hand, combatting the signs of aging with an exceptionally smart strategy from nature.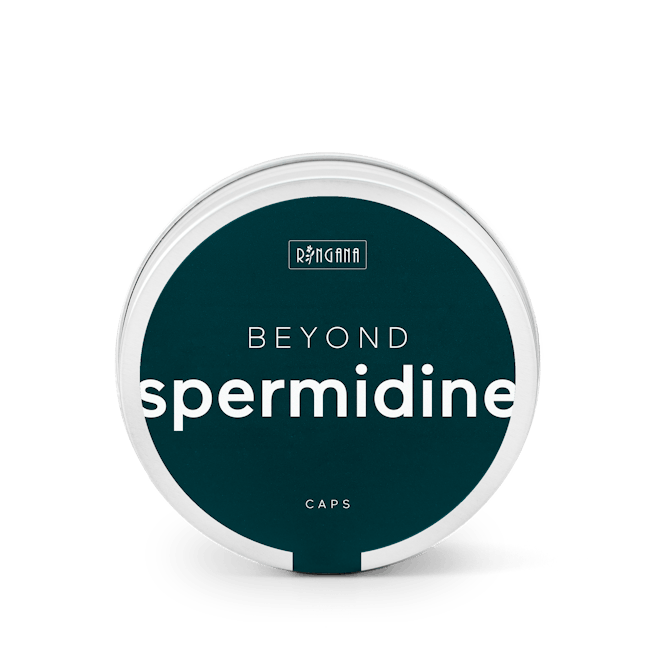 Food supplement in capsule form with spermidine, pyrroloquinoline quinone, ubiquinol, L-glutathione, algae powders and extracts as well as natural magnesium and vitamin E.
INGREDIENTS
Soya bean extract, magnesium oxide from seawater extract, hydroxypropyl methylcellulose (capsule casing), Chlorella algae powder (sulphites), stabilised ubiquinol (stabiliser: gum arabic, ubiquinol, dextrin), fucoidan extract from the seaweed Undaria pinnatifida, reduced L-glutathione, rice bran extract, dried microalgae Tetraselmis chuii* (sulphites), pyrroloquinoline quinone disodium salt.
* contains negligible amounts of iodine
NUTRITIONAL INFORMATION
DD = Daily dose

per DD
% NRV° per DD

Vitamins and minerals

Magnesium from Simag™
Seawater extract

186 mg
50

Vitamin E (Tocopherole and Tocotrienole) as α-TE from rice bran extract

3.1 mg
25

Other ingredients

Soya bean extract

contains spermidine

660 mg

1.2 mg

–

–

Chlorella algae powder
210 mg

–

Maritech® fucoidan extract from the seaweed Undaria pinnatifida

contains fucoidan

125 mg

106 mg

–

–

Stabilised ubiquinol

contains ubiquinol

50 mg

–

Setria® reduced L-glutathione
50 mg
–

TetraSOD® dried microalgae Tetraselmis chuii

contains superoxide dismutase activity (SOD)

25 mg

750 IU

–

–

Pyrroloquinoline quinone (PQQ) disodium salt
20 mg
–
Vitamin E contributes to the protection of cells from oxidative stress. Magnesium contributes to the normal function of the nervous system.
Simag™ is a trademark of Nexira. Maritech® is a trademark of Marinova Pty Ltd. Setria® is a registered brand of KYOWA HAKKO BIO CO., LTD. TetraSOD® is the property of Fitoplancton Marino S.L.
° % NRV = % nutrient reference value according to the Food Information Regulation
V 1.0
A product's ingredients may change over the course of time. If you want to know for sure what a product contains, the respective product packaging provides a list of ingredients.
Spermidine activates natural autophagy, an intelligent recycling concept that eliminates cell components that are defective or no longer required, thus having a cell­rejuvenating effect. Pyrroloquinoline quinone (PQQ) is a super­antioxidant that was recently discovered by life­health researchers. It has a positive influence on youthful cell function and promotes the formation of new mitochondria. Ubiquinol is the body's own and most effective form of Q10 which is particularly known for its rejuvenating effect. The microalga Tetraselmis chuii is a special marine substance that has 30 times more SOD activity than anything else currently on the market. The unique interaction of different nutrients can slow down the aging process in a natural way. Bioactive L­glutathione is a clinically­tested tripeptide that is produced naturally during fermentation, and can combat premature cell aging.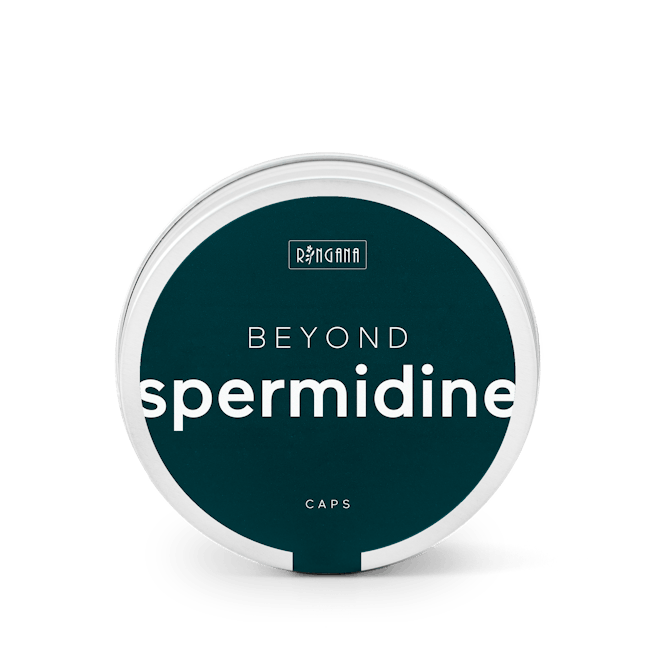 RECOMMENDED CONSUMPTION
Daily dose: 3 capsules daily. For optimum digestibility, best taken at mealtimes with a little water (non-carbonated).
IMPORTANT INFORMATION
The stated recommended daily dose may not be exceeded. Food supplements should not be used as a substitute for a varied and balanced diet and a healthy lifestyle. The product is designed for adults and should be stored out of the reach of young children.
RINGANA CAPS are not a medicinal product, and are not intended to replace consultations with your doctor. RINGANA CAPS are not intended to treat or cure diseases. If you are taking prescribed medication, suffer from health problems, or are breastfeeding or pregnant, consult your doctor before taking RINGANA CAPS.
The product is dry, and should not be stored above 25 °C. CAPS may not be passed on to others. Due to the particular properties of certain ingredients, there may be some discolouration or spotting of the RINGANA CAPS. Packaging made from environmentally friendly tinplate.
Not suitable for those who are pregnant or breast feeding, or for children and young adolescents under the age of 18.