The latest nutrition reports show that because of modern eating habits, crucial deficiencies of the nutrients Omega 3 fatty acids, fat-soluble vitamins and secondary plant substances are evident across all age groups. The revolutionary formulation of BEYOND omega delivers these essential nutrients in the highest quality. The vegan capsules are the ultimate daily companion for a healthy lifestyle, so every household should have them.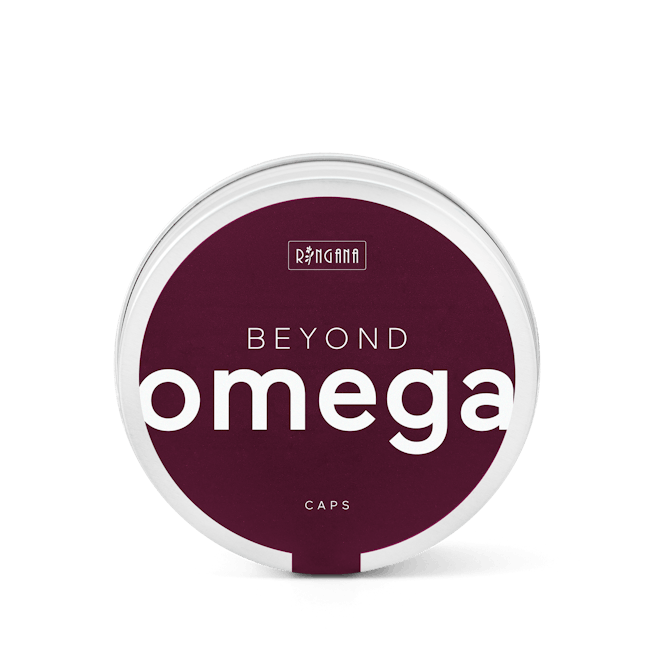 Food supplement in capsule form with DHA and EPA-rich oil from the microalgae Schizochytrium sp., natural Vitamin D, Vitamin K, Vitamin E and secondary plant substances.
INGREDIENTS
DHA- and EPA-rich oil from the microalgae Schizochytrium sp., hydroxypropyl methylcellulose (capsule casing), anti-caking agent: polyglycerol esters of fatty acids, anti-caking agent: mono- and diglycerides of fatty acids, oil from the microalgae Schizochytrium sp., rice bran oil extract, tomato extract, astaxanthin (haematococcus pluvialis extract), vitamin K2 (Menaquinone-7), coenzyme Q10, blueberry extract, marigold flower extract, high oleic sunflower oil, lemon oil, sesame oil extract, ginger root extract, mint oil, vitamin D3 from lichen extract.
NUTRITIONAL INFORMATION
DD = Daily dose
per DD
% NRV° per DD
Vitamins
Vitamin E (tocopherols and tocotrienols) as α-TE from rice bran oil extract
24 mg
200

Vitamin K2 (Menaquinone-7) from fermentation of Bacillus licheniformis

75 μg

100

Vitamin D3 from Vitashine D3™ lichen extract
20 μg
400
Other ingredients

Oil from the microalgae Schizochytrium sp.

contains Omega-3 fatty acids

of which DHA and

EPA

775 mg

400 mg

250 mg

90 mg

–

–

–

–

Lycored Lycomato™ tomato extract

contains lycopene

100 mg

15 mg

–

–

Astafit® haematococcus pluvialis extract

contains astaxanthin

60 mg

6 mg

–

–

Coenzyme Q10
50 mg
–

Mirtoselect® blueberry extract

contains anthocyanins

50 mg

18 mg

–

–

Lutemax® 2020 Marigold flower extract

contains lutein

Zeaxanthin

50 mg

10 mg

2 mg

–

–

–

Sesame oil extract

contains sesamin and sesamolin

30 mg

21 mg

–

–

Ginger root extract

30 mg

–
EPA and DHA contribute to the normal function of the heart.* DHA contributes to the maintenance of normal vision and brain function.** Vitamin E contributes to the protection of cells from oxidative stress. Vitamin D supports the function of the immune system and Vitamin K plays a role in the maintenance of normal bones.
* the beneficial effect is obtained with a daily intake of 250 mg of EPA and DHA.
** the beneficial effect is obtained with a daily intake of 250 mg of DHA.
Lycored Lycomato™ is a registered brand of Lycored, Orange, New Jersey. Vitashine is a brand of ESB Developments Ltd. Mirtoselect® is a registered brand of Indena S.p.A., Italy. Astafit® is a brand of BDI-BioLife Science GmbH, Austria. Lutemax® 2020 is a registered brand of OmniActive Health Technologies Ltd.
° % NRV = % nutrient reference value according to the Food Information Regulation
V 9.0
A product's ingredients may change over the course of time. If you want to know for sure what a product contains, the respective product packaging provides a list of ingredients.
EPA and DHA from microalga help maintain normal heart function.* DHA helps to preserve brain function and vision.** Fat-soluble Vitamin D3 from lichen extract plays a key role in an incredible number of the body's processes, and ensures a year-round supply of the sun vitamin. Blueberry extract contains anthocyanin and supports eyesight from within, improving our ability to see at night and in poor lighting conditions. The secondary plant substances lycopene, astaxanthin, lutein and zeaxanthin together with Vitamin E are antioxidant and protect against free radicals.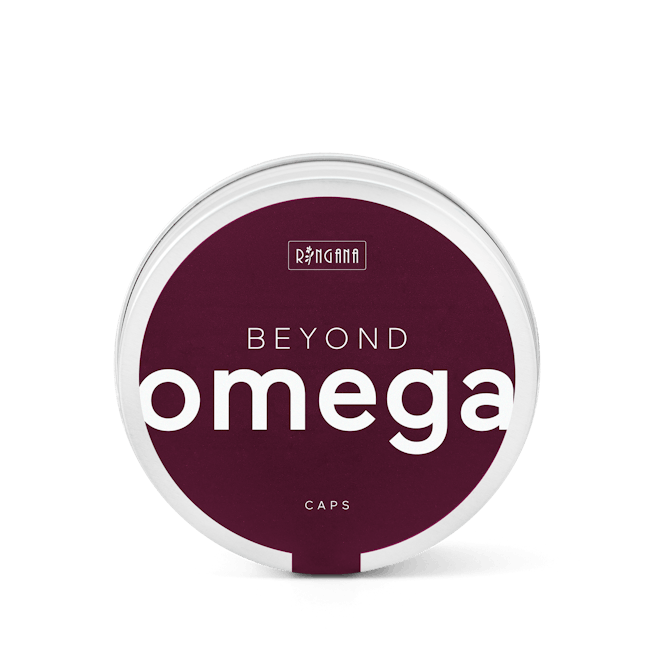 RECOMMENDED CONSUMPTION
Daily dose: 3 capsules daily. For optimum digestibility, best taken at mealtimes with a little water (non-carbonated).
IMPORTANT INFORMATION
The stated recommended daily dose may not be exceeded. Food supplements should not be used as a substitue for a varied and balanced diet and a healty lifestyle. The product is designed for adults and should be stored out of the reach of young children.
RINGANA CAPS are not a medicinal product, and are not intended to replace consultations with your doctor. RINGANA CAPS are not intended to treat or cure diseases. If you are taking prescribed medication, suffer from health problems, or are breastfeeding or pregnant, consult your doctor before taking RINGANA CAPS.
The product is dry, and should not be stored above 25 °C. CAPS may not be passed on to others. Due to the particular properties of certain ingredients, there may be some discolouration or spotting of the RINGANA CAPS. Packaging made from environmentally friendly tinplate.
Not suitable for those who are pregnant or breast feeding, or for children and young adolescents under the age of 18.